Fine art will never be the same again
The highest quality matte canvas on the market
Absolutely incredible detail
Eye-popping color gamut & Dmax
OBA-free, yet still bright white
Matte finish  |  19 mil thickness  |  450 gsm weight
For Aqueous Inks
*Compatible with most Epson, Canon, and HP printer models!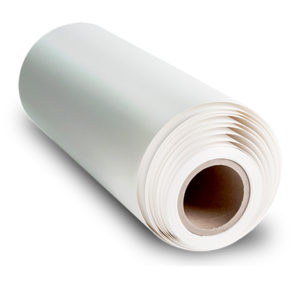 Use discount code "

BC15

" and get 

15% OFF

 eligible

*

products with minimum order $500;
Use discount code "

BC25

" and get 

25% OFF 

eligible

*

products with minimum order $1400.
Discount will be applied at the checkout and cannot be used in conjunction with other promotions.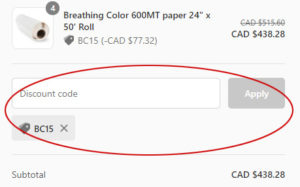 SKU#

Chromata White
$500+
$1400+
BCBCW1740

*

17″x40′
15% off
25% off
BCBCWT
17″x10′ SO
–
–
BCBCW2440

*

24″x40′
15% off
25% off
BCBCW3640

*

36″x40′
15% off
25% off
BCBCW4240

*

42″x40′ SO
15% off
25% off
BCBCW4440

*

44″x40′
15% off
25% off
BCBCW5040

*

50″x40′ SO
15% off
25% off
BCBCW6040

*

60″x40′ SO
15% off
25% off
SO – Special order items
---
19 MIL, 450GSM MATTE POLY-COTTON INKJET CANVAS. ARCHIVAL CERTIFIED, OBA-FREE
Chromata White Canvas is a textured 19 mil bright white, consistent poly-cotton blend matte canvas using an acid-free, neutral pH coating. Released in 2005, Chromata White was the first ever OBA-free canvas to hit the market and it has since revolutionized the giclee printing industry.
KEY FEATURES
INCREDIBLE COLOR GAMUT & DMAX
Characteristic of all Breathing Color inkjet media, Chromata White delivers exceptional color gamut & Dmax.
OBA-FREE, YET STILL BRIGHT WHITE
Called "Chromata White", this breakthrough technology has set Breathing Color apart for years. Normally, OBA-Free products have a yellowish surface. Our "Chromata White" technology, which we released in 2005, forever changed this by delivering OBA-Free with the desired bright white surface. This answered the needs of our customers to maximize the longevity of their prints while maintaining the most popular and desired look.
"Chromata White" gives the end-user the most stable platform on which to print photographs and fine art giclees without the metamerism issues or color shift issues inherent on other canvases. Optical Brighteners compromise the attainment of true color, they complicate profiling accuracy, and they inevitably deteriorate and yellow over time.
ARCHIVAL CERTIFIED
Chromata White is archival certified for 100+ years. Download and utilize Chromata's Archival Certificate to differentiate your business and show your customers how much you care about quality.
COLOR CONSISTENCY UNDER DIFFERENT LIGHTING CONDITIONS
Ever noticed how a print can look identical under one light source, yet show remarkable differences in color when viewed under a different light source? This problem is referred to as "metamerism". When OBA's are used in inkjet media, the metamerism problem exacerbates exponentially. Because this product is manufactured OBA-free, you are assured that your prints will look consistent under different lighting conditions.
NO CRACKING OR TEARING WHEN STRETCHING
When varnished with Timeless Gloss, Satin, or Matte, Chromata White will not crack or tear when stretched.
HIGHLY WATER-RESISTANT
All of our inkjet canvas grades share this feature.
DOWNLOADS – SPEC SHEET & ARCHIVAL QUALITY CERTIFICATE
OTHER PRODUCT INFORMATION
Chromata White Canvas is among the most archival canvases available today. In addition, its breakthrough technology results in a canvas that is whiter than traditional canvas manufactured with OBA's. Chromata White Canvas utilizes our most advanced inkjet canvas coating technology that is an industry leader in Dmax and Color Gamut. It was designed to deliver roll to roll CONSISTENCY from one production to the next.
The water resistant surface works exceptionally well with Glamour II Veneer, our proprietary water-based top coat coating designed specifically for our line of inkjet canvas (click here to see a video demonstration and for further information on Glamour II). If coated with Glamour II, this canvas will not crack even under extremely rigorous stretching conditions (canvas gallery wrap).
*Chromata White Canvas can be adhered to just about any surface (such as masonite board) by simply applying Glamour II Veneer coating onto the underneath surface of the canvas. Today, Glamour II is commonly used as a very effective mounting adhesive for those who prefer not to stretch canvas giclees. In addition to all Epson and Canon printers, Chromata White is also suited for all Roland printers, including the Eco-Sol printers using Eco-sol ink as well as the Roland's new "Max" ink.
See the Media Coverage of this product.
If you are new to Breathing Color and would like to test this product, we highly recommend that you take advantage of the inexpensive Trial rolls offered. Trial rolls are priced at cost, in order to encourage our customers to try our award-winning products for a minimal investment. Trial rolls provide enough product so that our customers can sufficiently run tests and create samples. CUSTOMERS MAY ONLY PURCHASE ONE TRIAL ROLL OF EACH PRODUCT.
PRINT PERMANENCE TESTING & ARCHIVABILITY STANDARDS
CHROMATA WHITE PASSES BLUE WOOL TEST
Extensive independent testing by a UKAS accredited laboratory has concluded that the Chromata White Canvas meets and exceeds the standards set forth by the Fine Art Trade Guild for pH and light fastness. The Fine Art Trade Guild has established these standards in order to protect the interests of consumers. Consumers who follow the Blue Wool Testing and the Fine Art Trade Guild standards can be confident that the art and framing supplies they use are archival certified.
HELPFUL VIDEOS
HOW TO DO A MIRROR EDGE IN PHOTOSHOP FOR A GALLERY WRAP
COMPATIBLE INKJET PRINTERS
This Product has been compatibility tested and approved for the following printers. If you do not see your printer listed below, it does not mean it is not compatible but that we have not tested and approved your printer at this time. Our aqueous media is compatible with most pigment and dye-based ink systems.
CANON
Professional Photo: Pixma Pro-1, Pixma Pro-10, Pixma Pro-100, Pixma Pro9500, Pixma Pro9500 Mark II
Large Format: iPF5000, iPF5100, iPF6000S, iPF6100, iPF6200, iPF6300, iPF6300S, iPF6350, iPF6400, iPF6450, iPF8000, iPF8000S, iPF8300, iPF8300S, iPF8400, iPF9000, iPF9100, iPF9400, iPF9400S, W6400, i990
EPSON
Stylus Photo Series: R1800, R1900, R2000, R2400, R2880, R3000
Stylus Pro Series: 3800, 3880, 3890, 4000, 4800, 4880, 4900, 7500, 7600, 7700, 7800, 7880, 7890, 7900, 9500, 9600, 9700, 9800, 9880, 9890, 9900, 10000, 10600, 11880, WT7900
Surecolor: T3000, T5000, T7000
ROLAND
Hi-Fi Jet Pro & Pro II Series Printers, VersaArt RA-640
HP
DesignJet: 1055CM +, Z2100, Z3100, Z3200, Z3200ps, 5000, Z5200, 5500, Z6100, Z6200
Photosmart Pro: 8750, B9180
MIMAKI
JV-4, JV2-130, JV22-160
MUTOH
RJ46, RJ50, RJ62, RJ64, RJ900, ValueJet 1304W, ValueJet1604AW, ValueJet1638W
DURST
All Durst printers using aqueous pigment or dye-based ink