The highest quality textured fine art paper
For Aqueous Inks
Eye-popping color gamut & Dmax
OBA-free, yet still bright white
100% cotton, textured fine art paper
Manufacturer direct
Lightly textured finish  |  23 mil thickness  |  310 gsm weight
Compatible with most Epson, Canon, and HP printer models!
Use discount code "

BC15

" and get 

15% OFF

 eligible

*

products with minimum order $500;
Use discount code "

BC25

" and get 

25% OFF 

eligible

*

products with minimum order $1400.
Discount will be applied at the checkout and cannot be used in conjunction with other promotions.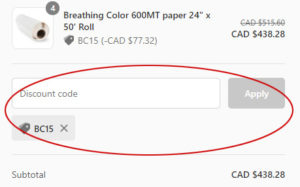 SKU#

Pura Velvet
$500+
$1400+
BCPV1722
17×22" 25 Sheets
–
–

BCPV1710
17″x10′ Trial Roll
–
–

BCPV1740

*

17″x40′ Roll SO
15% off
25% off

BCPV2440

*

24″x40′ Roll SO
15% off
25% off

BCPV4440

*

44″x40′ Roll SO
15% off
25% off
SO – Special order items
---
310GSM BRIGHT WHITE VELVET FINE ART PAPER, 100% COTTON
This 310g, Bright White, water-resistant velvet fine art paper is made from 100% cotton fiber and is acid and lignin free. Pura Velvet is a proprietary mouldmade fine art paper that is strong and dimensionally stable. It has a high white point, remarkable ink load capacity, and best-in-class image quality that far exceeds the limitations of virtually every paper of its kind.
Pura Velvet is ideally suited for luxurious fine art and photographic reproduction, portraits, greeting cards, post cards, and presentational art graphics for printed displays.
KEY FEATURES
UNRIVALED COLOR GAMUT & DMAX
No 100% cotton rag velvet fine art paper on the market today can compete with the color gamut and Dmax that this fine art paper delivers. Pura Velvet is truly ahead of its time, and its name has proudly stood as one of the flagship products of our Company.
LUXURIOUS LOOK & FEEL
One you've held a Pura print in your hand, its hard to not be impressed with its ideal 310g weight and soft feel. With Pura, know that you're maximizing the perceived value of every fine art print.
CONSISTENT & RELIABLE
We understand that long-term consistency and reliability is vital. That's why we made Pura Velvet to be a derivative of our Elegance Velvet Fine Art Paper, which has been the "anchor" of fine art reproduction studios worldwide for a decade. No reason to reinvent successful product – we just enhanced it.
ARCHIVAL CERTIFIED
Pura Velvet is archival certified for 100+ years. Download and utilize the Archival Certificate to differentiate your business and show your customers how much you care about quality.
COLOR CONSISTENCY UNDER DIFFERENT LIGHTING CONDITIONS
Ever noticed how a print can look identical under one light source, yet show remarkable differences in color when viewed under a different light source? This problem is referred to as "metamerism". When OBA's are used in inkjet media, the metamerism problem exacerbates exponentially. Because this product is manufactured OBA-free, you are assured that your prints will look consistent under different lighting conditions.
MANUFACTURER-DIRECT
Our proprietary products are very expensive to develop, manufacture and ensure quality. If we sold them through traditional distributors, our products would hands down be the most expensive on the market. Instead, we employ a manufacturer-direct business model that bypasses the middle man and empowers us to provide you with first class, state-of-the-art products at competitive prices. It also allows us to deliver direct, unprecedented service and support for our products.
GET A TRIAL ROLL
If you are new to Breathing Color and would like to test this product, we highly recommend that you take advantage of the inexpensive Trial rolls offered.Trial rolls are priced at cost, and at times below our cost in order to encourage our customers to try our award-winning products for a minimal investment. Trial rolls provide enough product so that our customers can sufficiently run tests and create samples.
OTHER PRODUCT INFORMATION
Pura Velvet Fine Art Paper is water-resistant and instant drying, and can therefore be coated with our Timeless or Glamour 2 print varnish to create coated finishes on 100% Cotton Rag fine art paper (scroll down below this section to see a tutorial video of this process). You can use Timeless Gloss, Satin, and Matte with the process outlined in the video below. You can also use Glamour 2 Gloss, Matte, or a combination of the 2 when coating Pura Velvet.
Breathing Color is now publishing measured testing data analysis of our products in order to illustrate our ongoing commitment to excellence in quality and the attainment of clear leadership in product innovation. We call our products "the most advanced in the world" – and its our job to to show you precisely why. Please read our Print Quality Evaluation of The Top 100% Cotton Rag Inkjet Fine Art Papers.
PRINT PERMANENCE TESTING & ARCHIVABILITY STANDARDS
PURA VELVET PASSES BLUE WOOL TEST
Extensive independent testing by a UKAS accredited laboratory has concluded that the Pura Velvet Fine Art Paper meets and exceeds the standards set forth by the Fine Art Trade Guild for pH and lightfastness. The Fine Art Trade Guild has established these standards in order to protect the interests of consumers. Consumers who follow the Blue Wool Testing and the Fine Art Trade Guild standards can be confident that the art and framing supplies they use are archival.
HELPFUL VIDEOS
HOW TO VARNISH FINE ART PAPER PRINTS
COMPATIBLE INKJET PRINTERS
This Product has been compatibility tested and approved for the following printers. If you do not see your printer listed below, it does not mean it is not compatible but that we have not tested and approved your printer at this time. Our aqueous media is compatible with most pigment and dye-based ink systems.
CANON
Professional Photo: Pixma Pro-1, Pixma Pro-10, Pixma Pro-100, Pixma Pro9500, Pixma Pro9500 Mark II
Large Format: iPF5000, iPF5100, iPF6000S, iPF6100, iPF6200, iPF6300, iPF6300S, iPF6350, iPF6400, iPF6450, iPF8000, iPF8000S, iPF8300, iPF8300S, iPF8400, iPF9000, iPF9100, iPF9400, iPF9400S, W6400, i990
EPSON
Stylus Photo Series: R1800, R1900, R2000, R2400, R2880, R3000
Stylus Pro Series: 3800, 3880, 3890, 4000, 4800, 4880, 4900, 7500, 7600, 7700, 7800, 7880, 7890, 7900, 9500, 9600, 9700, 9800, 9880, 9890, 9900, 10000, 10600, 11880, WT7900
Surecolor: T3000, T5000, T7000
ROLAND
Hi-Fi Jet Pro & Pro II Series Printers, VersaArt RA-640
HP
DesignJet: 1055CM +, Z2100, Z3100, Z3200, Z3200ps, 5000, Z5200, 5500, Z6100, Z6200
Photosmart Pro: 8750, B9180
MIMAKI
JV-4, JV2-130, JV22-160
MUTOH
RJ46, RJ50, RJ62, RJ64, RJ900, ValueJet 1304W, ValueJet1604AW, ValueJet1638W
DURST
All Durst printers using aqueous pigment or dye-based ink